Latest News
Details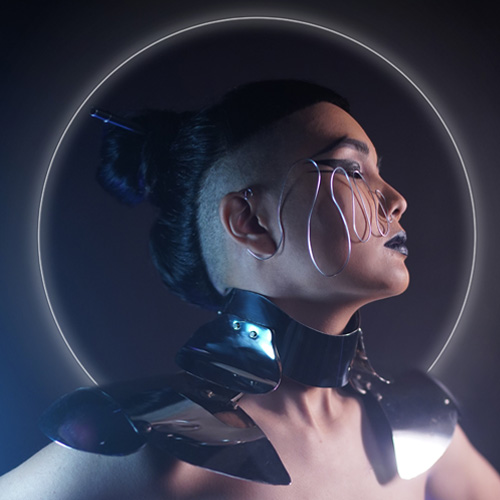 Our futurist synth and dark electro artist C Z A R I N A will release a new gothic and Sci-Fi cyberpunk single "Atomic: Ad Initivm" on March 5th. 2021!
Galicia, Spain-based American synth and electro artist CZARINA (styled as C Z A R I N A on all platforms) unveils her latest high-octane gothic and sci-fi cyberpunk single entitled "Atomic: Ad Initivm". The hyper dynamic track explores themes of trans-humanism and cybernetics combined with spiritual awakening in a dark dystopian future. CZARINA poignantly relates the soul and spirit to subatomic particles in nuclear fission at the core of the human body, defying space and time. Haunting gothic choir chants in Latin asking to liberate the spirit from the body and return back to its source, as pulsating electricity surges waves upon waves omi-nously in a neon noir cyberpunk atmosphere, resulting in an eclectic and highly evolved take on dark, futurist electro pop that is both heavy-hitting yet ethereal. Written, composed, arranged, produced and performed by CZARINA with additional production, mixing and mastering by Von Hertzog of The Social Club, "Atomic: Ad Initivm" and its accompanying music film will be available across all platforms on March 5th, 2021.
CZARINA is Vero Faye Kitsuné, an award-winning electronic musician, producer, songwriter, filmmaker, creative director, designer and visual and performance artist. She is known for her multi-disciplinary approach that combines trans-humanism and post-human aesthetic with new age mysticism, informed by her love for futurist culture, cybernetics, biomechanics and the discipline that comes with her Budo martial arts training.
CZARINA's unique soundscape seamlessly melds electronic with organic sounds, transcend-ing a vast spectrum of genres including progressive synths, art rock, future pop, cyberpunk, industrial, trip hop, post-punk and darkwave. Her eclectic list of musical and visionary influ-ences include Nine Inch Nails, TOOL, Massive Attack, Bjork, The Knife, Fever Ray, Puscifer, Vangelis, A Per-fect Circle, The Cranberries, Enya, David Bowie, Led Zeppelin, QUEEN, Blondie, Kate Bush, Siouxie Sioux, Tori Amos, and visual masters and storytellers Masamune Shirow, Yoshitaka Amano, HR Giger, Hayao Miyazaki, Katsuhiro Otomo and Hajime Sorayama. CZARINA takes her audience into a smoky, neon-lit dimension, filled with atmospheric and cinematic synths, shimmering arpeggios, sonic guitar riffs, catchy melodies, powerful vocal hooks, and poignant, thoughtful lyricism that compels one to look inward, around and beyond the material world.
Preorder the upcoming single "ATOMIC: AD INITIVM" now:
Details
HELLCOME OCEAN DARK 🤘
Friends, we're more than happy to announce that the Finnish dark rockers OCEAN DARK joined the darkTunes family! We're going to release their new single "Fallen" on March 5th. 2021 and trust us, the fans of heavy metal and dark rock won't stop to bang their heads!
Click HERE to read more infos about this northmen band!
Preorder the upcoming single "FALLEN" now:
Details
💥SICKRET - WORSHIP - OUT NOW💥
"Envy must be earned and It's the greatest praise, Your hate let me rise, Your anger is no surprise, You wanna tear me apart with gossip, That does not affect me!"
Friends, get ready to bang your hand hard, our Swiss Nu Metal heads SICKRET are back with the 2nd single of their new concept album! We're very proud to present you this banger which is called WORSHIP. Enjoy and share 🤘
Get the new single "WORSHIP" now on:
Details
"Let's take it slow, One kiss at a time, Move to the rhythm of slowlove, Wake up to my kind of Love in slow-motion"
Our synthpop duo BLACKBOOK from Switzerland is back with a wonderful new single called "Slowlove". Enjoy this great message!
If you still don't know BLACKBOOK: One half of the duo is responsible for various radio hits which are still among the most played Swiss songs, as well as the title song of a successful international NETFLIX series.
The other half works as a musician for several of the best-known acts in the Swiss music scene. His history as a songwriter and producer includes numerous chart successes, including several best-selling Swiss singles, a number 1 hit in Luxembourg and several top 50 successes in Germany.
Get the new single now here:
Details
🔥DUST IN MIND - BREAK🔥
"I'm locked up in a cage, Looking for this feeling, The only way out, Dig dig deep down..."
Ladies & gentlemen, we're more than happy to announce the release of the new Dust In Mind single and video "Break"! Be ready for this banger track full of emotions...
Get it now 👉 https://smarturl.it/DIMbreak