Latest News
Details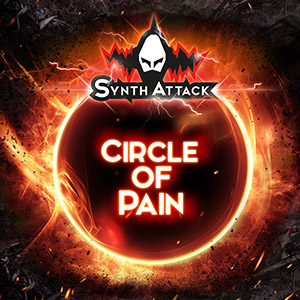 Get ready to enter the ring of fire to dance hard cause our dark electro duo SYNTHATTACK drops a new clubhit and video called "Circle Of Pain"!
This single doesn't come alone, you'll get an extra dose of dark beats with the remixes of ACCESSORY and DISTOXIA
Get it now on 👉 https://lnk.to/CircleOfPain
Details
"You're my favorite enemy, You're my darkest memory"
Dear synthpop lovers, BLACKBOOK unleashes their new single "My Darkest Memory" and their new music video! Be ready to face your favorite enemy during bewitched dance on catchy melodic synthpop!
Get it now on https://blackbookofficial.bandcamp.com and on all streaming and download stores!
Details
HER OWN WORLD drops a new EP and video!
We're very excited to announce that our newest signing HER OWN WORLD from Poland just released their new EP and their new music video! Enjoy this wonderful industrial ballade!
Click HERE https://herownworld.bandcamp.com to get the new EP!
Details
EXTIZE drop the third single of their new concept album "MonStars"! Klaatu... Verata... Nect...... Yes, this time it's about the cult horror comedy movie EVIL DEAD! Enjoy!
One, two, three and four – new EXTIZE album at your door! An electrifying musical tribute to the most iconic horror and sci-fi movies! Welcome to the MONSTAR(S) party of the year! 
Not only is this concept album a sensational tribute to the horror and sci-fi stories from the 80s all the way to the 2000's that frontman Cyb3rella grew up with, but it's also going to be released as a digipak with 3D glasses and 3D booklet to properly take you back in time and make your listening experience even more exciting! As a bonus, EXTIZE is also releasing a collectors edition in the form of a VHS box with an audio cassette version of the album and many goodies from the movies that it's about! As a treat, the band has also added a bonus track to the cassette called 'Dusk' inspired by the movie 'From dusk till dawn'!A sensational musical horror experience that will even make the skeletons in your closet dance, available everywhere on September the 30th 2022. Surrender to the amazing world of sci-fi and horror but remember: Always be afraid of the monsters…
Preorder EXTIZE's new concept album now as ULTRA LIMITED VHS COLLECTOR BOX, LIMITED DIGIPAK, LIMITED AUDIO CASSETTE or CD & T-SHIRT BUNDLE now exclusively on our store DARKMERCH:
This new single and album are also available as stream and download here
Details
💥BASSCALATE - WIR DREHEN AUF💥
The new BASSCALATE single is OUT NOW!
Dear beats junkies, BASSCALATE (side project of the SynthAttack frontman) are back with a nasty new single, and it's gonna be loud... VERY loud...
"Wir Drehen Auf" makes no compromises... And this track doesn't come alone, you will also have to dance hard on its TEKNOVORE remix!
Get the it now on: