Latest News
Details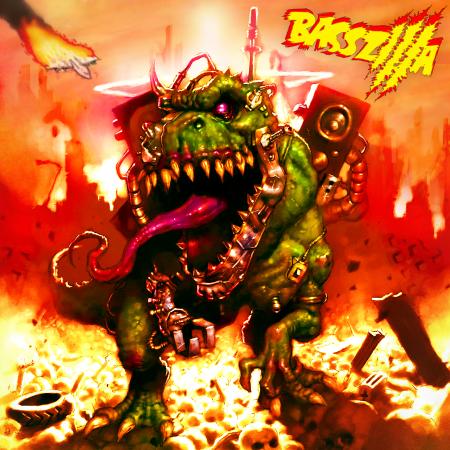 🔥🦖Boom! Boom! Grrrrrr! Run for your life, the monster is here! BASSZILLA's new double album "Support Your Local Apocalypse Dealer" is coming! We've just started the preorders of the ultra limited 2CDs Digipak and collector editions now, so be quick and get yours!
👉 https://smarturl.it/Basszicalypse
From the depths of the electro-swamps the monster arises another time: BASSZILLA is awakened once again! The king of monsters is stomping relentlessly across the dancefloors of Death Electro, Complextro, Nu Rave and Dark Techno with industrial house influences and presents itself darker and more grimly than ever before. Since the monstrous music-project (awoken by the Extize frontman) has charged the clubs for the first time in 2014 and after three releases and some memorable DJ Sets, like the one with WESTBAM among others, the dancefloors around the globe are still burning. But like in every good monster-story it also applies to BASSZILLA: The evil does never sleep! And so, it is clear that also this time the bass-monster awakes to life again and causes an electro-quake extraordinaire with his new album "Support Your Local Apocalypse Dealer".
Twenty tracks influenced by bands like CYBERPUNKERS, DIRTYPHONICS, INFECTED MUSHROOMS, OWL VISION, GESAFFELSTEIN and NERO are shaking the dancefloors to the very foundation and bring the party-crowd to dance like mad! The beauty and the beast can go hom, because you will also find an awesome featuring with the darkpop queen of OMNIMAR on this album. Again, BASSZILLA provides us with monstrously good temper and easily manages it to promote the evolution of his own style without losing his unique sound.
Mankind has failed in stopping BASSZILLA with conventional weapons, this monster of the beats is no ordinary one: He is BASSZILLA, hear his bassline roar! Nobody can escape the bass-beast and whoever loves electronic sounds will surely not be able to elude from the deep rumble and screams of BASSZILLA on his new album!
FORMATS: 6 sided digipak with 2 CDs (limited to only 200 units worldwide), girly collector bundle, man collector bundle, download and stream.
RELEASE: May 22th. 2020
Details
darkTunes Music Group is proud to present you a selection of independent and unknown horror, sci-fi, fantasy and dark thriller movies! Enjoy this creepy short film written and directed by Craig Fisher!
Synopsis: On All Hallows' Eve, Issac's Sleep Paralysis comes full circle. Can he survive the night, or will the Nightmæres drag him into the darkness forever...
Details
Friends of female fronted bands, we've just created a Spotify playlist full of girls power! 
Enjoy this playlist made of metal goddesses, heavy metal & alternative electro queens, and bang your head with them! Join us now:
👉 https://open.spotify.com/playlist/76gylq0O22vJfkfrQUa0qX?si=s04gJlG6SlWqpNQi5-N9SA
Details
Dear female fronted metal fans, the second single & video of the upcoming FALLCIE album is OUT NOW!
Enjoy A MARTY IS BORN, which is taken from their upcoming album BAD BLOOD which will be released on March 6th.
Two years after the first album "Born Again", the Russian female fronted metal band FALLCIE followed up with their second long player "Bad Blood". Noisy and violent, one banger after another pounds out of the speakers on "Bad Blood". On 10 songs, FALLCIE take the listener on a dark journey between good and evil. Angry growls combined with crystal clear vocals by frontwoman Valentina meeting pounding double bass drums with driving and melodic guitar riffs.
FALLCIE stand for ruthless female fronted metal, in the spirit of acts like JINJER and INFECTED RAIN. After FALLCIE attracted attention in 2017 with their first single "Rock'n'Rolla", the five russian riots from Saint Petersburg moved around the world to bring their brute sound to the people. So FALLCIE were on tour with NILE and HATE ETERNAL, were support for SUMO CYCO and have already completed 5 headliner tours through Europe. For the new album "Bad Blood" FALLCIE are on Europe tour with VADER in March 2020.
"Bad Blood" will be released on March 6, 2020, so be quick and get you collector bundle with limited shirt and digibook now exclusively on our shop DARKMERCH:
Or preorder the digital album on iTunes, Amazon, Googleplay or Bandcamp and get the new single PARASITES as instant gratification download now:
Details
Here we go, hell is gonna turn into an evil pink paradise full of glitters! Enjoy this "Daddy Is The Devil" album preview of our female fronted industrial electro rockers from France FREAK INJECTION. 
Don't forget to preorder the album and one of our 4 limited collector editions here: